Mississauga – The Best City to Live, Work & Play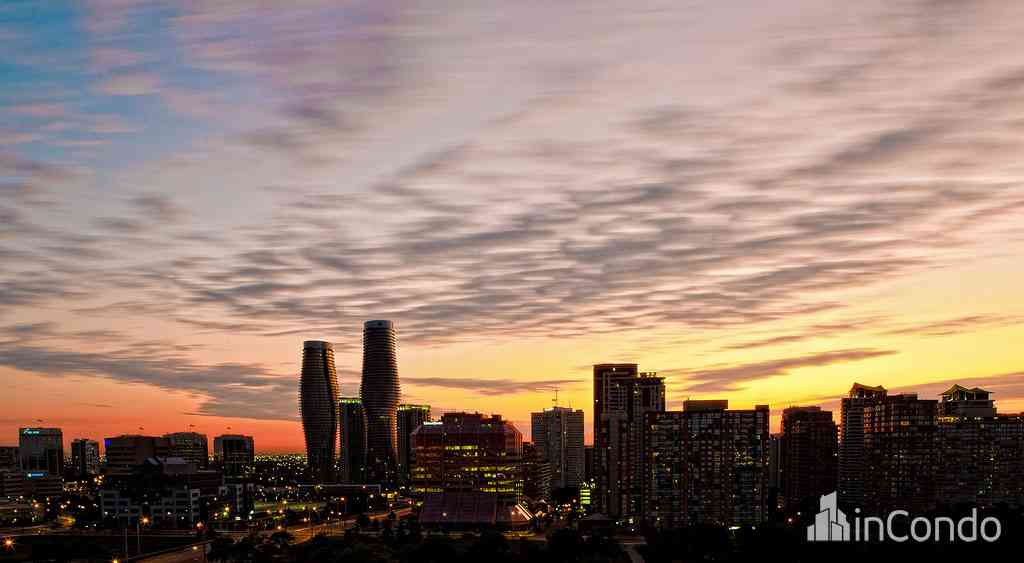 Mississauga, a city located on the pristine shores of Lake Ontario, is a very diverse city with a good variety of neighbourhoods.
A population of over 700,000 residents, makes Mississauga the sixth largest city in Canada!
When choosing a neighbourhood to live in in Mississauga, the condos in the downtown Mississauga (Square One) area resonate really well for individuals and families alike at any stage of their lives. The Square One area in downtown Mississauga and the condos which surround it flourish with diversity and acceptance of people from all different walks of life.
The City of Mississauga, particularly the downtown core, is a great spot for people of all ages with nearby amenities suitable for single individuals, couples and families.
Choosing to rent or purchase a condominium unit in downtown Mississauga puts you in close proximity to exercise facilities such as the YMCA (Mississauga Burnhamthorpe Rd. YMCA Centre), as well as multiple community centers providing numerous recreational activities, fitness centers, camps and sports teams for children. All of this on top of the fantastic and well outfitted amenities each condo offers it's own residents. There is no shortage of restaurants and local cafes, all within walking distance or short drive / bus ride from the majority of the Square One area condos. Mississauga is also host to some of Canada's most prestigious colleges and universities. Sheridan College is located directly across from Square One and the University of Toronto – Mississauga Campus (UTM) is not too far away. There are many junior schools, middle schools and high schools in the downtown core, belonging to both public and separate boards. There is also an Adult Education Centre a couple of blocks south of Burnhamthorpe and Hurontario.
Square One Shopping Centre, currently the largest mall in Ontario, can be found only steps away from City Hall, as well as many of the most popular condos in the downtown Mississauga area. At the time of writing this article, Square One is undergoing a massive expansion and renovation to accommodate Mississauga's future growth and to satisfy the needs and wants of Mississauga's residents. Downtown Mississauga is also home to many movie theaters, as well as the Livings Arts Center, where one can enjoy a plethora of theatrical productions.
Mississauga is not at all a concrete jungle like our neighbouring city Toronto. For the nature lover or for those that just want to get a breath of fresh air, there is an abundance of parks and trails, which crisscross through the downtown core. Hiking, biking, jogging and nature walks are activities which you can enjoy outdoors on a daily basis. You may decide to take a stroll into Kariya Park, a Japanese Garden honouring Mississauga's twin-city relationship with Kariya, Japan or you may decide to venture a little further and visit Erindale Park, located next to the UTM grounds with the majestic Credit River cutting through the gorgeous green landscape. You may for a second (or for a couple of hours if you so choose) forget about the hustle and bustle that makes downtown Mississauga so great. These are just two examples of the many scenic paths that can be found throughout the city.
Finally, Mississauga has reliable access to get anywhere in and around the city, as well as across the GTA.
All that the city has to offer is accessible by car, and just as accessible by public transit (MiWay & GO Transit).
If you decide to purchase or rent a condo in the vicinity of Square One, almost everything you can think of is accessible on foot.
Downtown Mississauga is situated between two major highways (Hwy 403 and the QEW), which provide access to the 401, 427, 410, 407 and the Gardiner Expressway.
Square One (City Centre) is one of the stops on Mississauga's all new Bus Rapid Transit line named the Mississauga Transitway, connecting Mississauga to Toronto Pearson International Airport.
With a GO Transit & MiWay terminal located right in the heart of downtown Mississauga, along with well connected MiWay bus and GO train services and with convenient highway access, one can rest assured there will be no shortage of available ways to commute to work and to explore more of what this great city has to offer.
Still not sure if Mississauga is right for you? Do you have any questions about the beautiful city of Mississauga?
Contact us here at inCondo today and we will be more than happy to assist you in figuring out if Mississauga condo living is the best option for you!