Condo Assignment - A Guide for Buyers & Sellers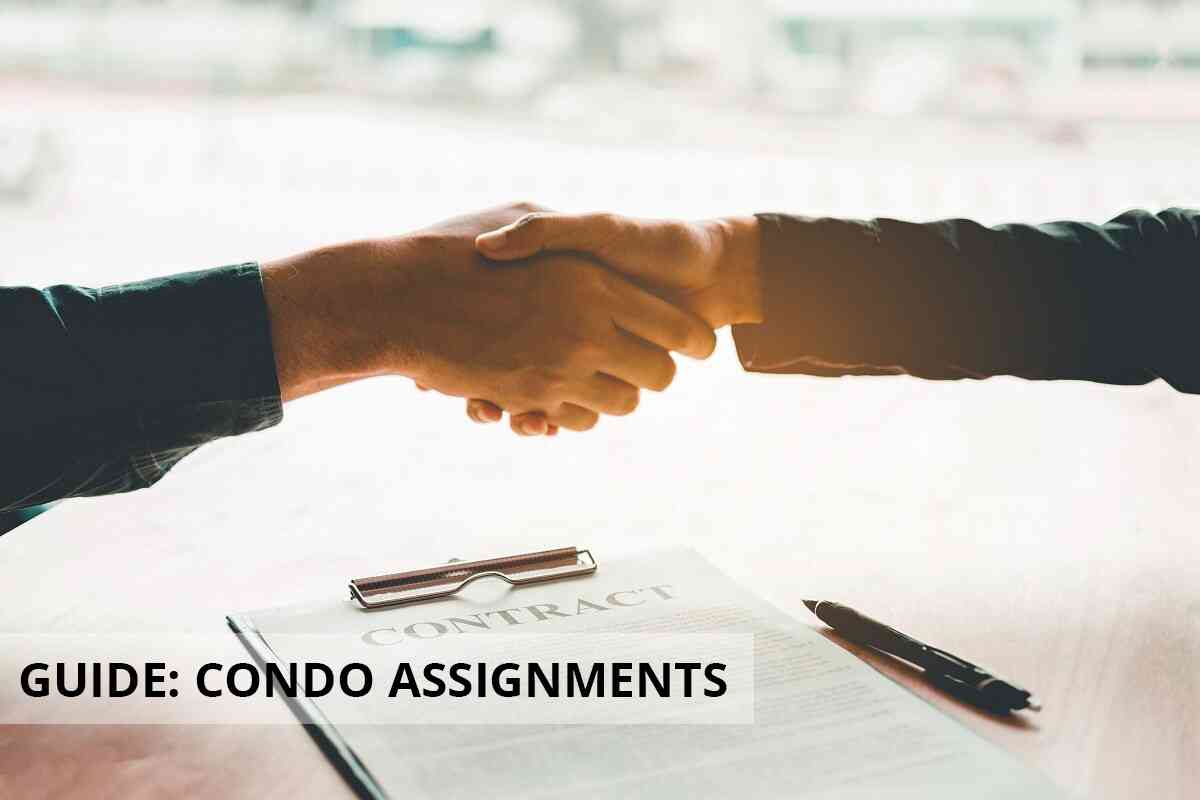 What are assignments all about?
As a purchaser, you will usually wait a couple of years after signing an Agreement of Purchase and Sale (APS) for a condo in the pre-construction phase before actually moving in and taking possession of the unit. Typically, a realtor that specializes in pre-construction will ensure that an 'assignment clause' is drafted into your contract, giving you various options closer to the completion date. Why? Your situation may change – nobody knows what will happen between the time you sign the contract and when the building is ready for occupancy. Life happens. The assignment clause allows the original purchaser(s) to sell (assign) the Agreement of Purchase and Sale (contract) and all of its legal rights to a potential buyer. In the assignment world, selling is called assigning, the buyer is the assignee and the seller is the assignor. Assignments can get a little overwhelming for both assignees and assignors, but with the right lawyer/realtor combo, the transaction is a breeze. Let's dive a little deeper into how you can assign your newly purchased condo unit below.
Who can assign?
Only the purchasers who's names are listed on the original APS and have a legally valid assignment clause drafted into the agreement have the right to assign their suite. Unfortunately, those purchasers who did not request that the right to assign be written into the agreement at the time of purchase will not be able to get the builder's approval to assign. Often times, builder consent must be granted before you are able to begin advertising your assignment sale. In order to obtain consent, the developer may have certain criteria that has to be met:
a percentage of the building has to be sold firm (typically 80% plus) - at this point, the builder has most likely received their construction financing and you are not competing with the sales of their remaining inventory;
a predefined portion of your deposits must have cleared (for example 3/4 (15%) of an agreed 20% deposit) - we have also seen builders request that any remaining deposits be paid in full and some even ask for futher deposits;
the builder's lawyer must grant you approval;
The criteria may vary per developer, but the above is what you should generally expect if you plan on assigning your unit. Make sure that you are aware of your rights and obligations, before committing to an agreement.
How do you assign?
Once you are ready and the builder gives you the go ahead, you can begin advertising your unit. Keep in mind that builders usually do not permit listing the suite on MLS since as a pre-construction purchaser, you do not have title to the unit until final closing. Also, a lot of MLS boards do not allow a property to be listed on the service if the property cannot be physically shown. The best way to gain the most exposure for your listing as an assignor is to contact a realtor who specializes in pre-construction condos. Pre-construction experts have access to different Realtor networks that focus on marketing exclusive "off-market" properties, such as assignments. At inCondo, we also have a dedicated section for our assignment listings. Most developments sell out of inventory quickly upon launch and a lot of buyers are not willing to wait a couple of years to take possession of their investment. These two factors set the stage for the condominium assignment market. Pre-construction professionals have a database of buyers who prefer to purchase a brand-new, never-lived-in unit and since there is most likely no remaining inventory available from the builder, they take to assignment sales.
What are the costs associated with assigning?
The fees associated with assigning your unit vary per developer and can depend on the incentives available at the time of signing the original APS. Builders may charge a fee if you decide to assign your unit – anywhere from free to $5,000+, in order to cover lawyer and administration fees on their end. The assignment transaction between assignor and assignee is separate from the original transaction with the developer. A commission should be paid to the Realtor that brings a client (assignee) and your listing Realtor will charge a marketing fee as well. Commissions are always negotiable. The only recommendation we can make here is to use the services of an agent that understands condo assignments and deals with pre-construction condos. Another fee you will encounter is your lawyer fee. Although assignments are increasing in popularity, most real estate lawyers do not work on assignments and it can be tricky to find an expert. David Feld & Sonia Kalia's office (wearelaw.ca) is an excellent resource for legal assistance with regards to your assignment sale. When you find an assignee and accept an offer, or vice versa, always have your Assignment Agreement of Purchase and Sale reviewed by a lawyer to avoid complications upon closing and title transfer. Fees typically range from $2,000 - $2,500 since there are more contractual elements to inspect (including the original APS) compared to re-sale.
What should I expect while looking for an assignment?
As the assignee in an assignment sale transaction, we highly recommend that you fully read through the original APS with your lawyer to ensure a smooth transfer process. Keep in mind that you will be bound to the terms and conditions set out in the original contract – all of the risks, but also the rewards are passed on. Some of the liabilities include paying HST upon closing (unless you purchase for personal use), disbursing Land Transfer Tax (though first-time home buyers qualify for a rebate), providing the assignor with their deposits paid to date (potentially profits vs. original purchase price as well), and development/educational levy costs (these may be capped in the assignors original APS). You would usually encounter these same liabilities if you were to purchase the unit at the pre-construction phase years prior regardless, but at the assignment stage, there is little to no room for negotiation – all of the original contractual obligations transfer to the assignee. However, there are plenty benefits to purchasing an assignment sale, which include: selecting colours, upgrades and finishes (an assignee would have this opportunity if the purchase occurs approximately 1 year prior to construction completion), enrollment in the Tarion Warranty Program (legislated by the provincial government to protect the buyers of new construction), as well as access to brand new units located in the most desired areas and not available on the re-sale market, while eliminating the threat of other contesting buyers.
Overall, assignment sales are extremely intricate transactions which require your Realtor and lawyer to carry the utmost professionalism and expertise but can be very lucrative for both assignees and assignors. If you are currently searching for an assignment, would like to explore assignment opportunities, or have any questions, we are always happy to help!
---