Quick Facts
Floors: 25
Units: 278
Completion: 2020
Maintenance: $0.54 PSF
Neighbourhood: Islington-City Centre West
Intersection: Dundas / Shorncliffe
One Bed Price: N/A
Two Bed Price: N/A

The cypress is a regal tree whose statuesque bearing provides a fitting name for Pinnacle Etobicoke's first building in this remarkable new master planned community.
CYPRESS blends elegant condominium design with convenient retail and a variety of amenities from fitness and entertainment to transit and parks. Cypress at Pinnacle Etobicoke is a great place to set down roots!
PINNACLE ETOBICOKE is located a short walk to the Kipling Subway Station and HUB at the heart of Etobicoke's emerging New City Centre. With easy access to everything you love about the city, as well as local cafes, shops and services at your door, this spectacular location has it all. Make the most of every minute at Pinnacle Etobicoke.
Life at Cypress is inspired by fun and recreation. From the state-of-the-art Fitness Centre to the designer decorated Party Room, whatever you choose to do, you'll do it in renowned Pinnacle style.
Developer Snapshot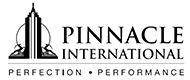 Pinnacle International
Pinnacle International is one of North America's leading builders of exclusive luxury condominium residences, master-planned communities, hotels and c... Read More