Quick Facts
Floors: 40 & 48
Units: N/A
Completion: 2023
Maintenance: $0.59 PSF
Neighbourhood: City Centre
Intersection: Confederation Parkway / Parkside Village Drive
One Bed Price: $399,900
Two Bed Price: $547,900

Welcome to Avia. A place to feel at home, with a future of blue skies ahead.
Avia introduces an elevated lifestyle to the vibrant neighbourhood of Parkside Village.
From the brickwork of the podium levels inspired by industrial heritage, to the elegantly angled towers of glass rising above, this is set to be an iconic addition to the Mississauga skyline.
Avia takes its name from 'aviation' after the sense of movement in its facade and the emphasis on sweeping views from the residences - each a contemporary home of flexible spaces, sophisticated finishes, and an abundance of natural light.
Developer Snapshot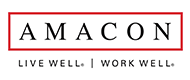 Amacon
Amacon is a well-respected developer in Mississauga, with most notable development being a master-planned community called Parkside Village at Burnham... Read More